Day 2. It's Bitterroot
by Hope Windle
Date: June 17 Saturday, 2017
Start/End: Missoula MT / Stevensville, MT (Bitterroot ½ way)
Itinerary: Visit depots in Missoula. Ride start of Bitterroot Trail 15. Camp part way, Stevensville, MT.
Actual: Visit Adventure Cycling Association, train depots in Missoula.
Started riding in the afternoon, arrived at Campsite in evening
Trail: Bitterroot Trail
Trail Surface: Asphalt
Riders: Lisa, Cori, Hope, Maya, Lana, Bob & Dee + Ginny (guide)
Miles rode: ~25
...Turns out the place we spent the night -- "Dunrovin Ranch" (ahem) -- is a dude ranch. In the morning, post-coffee, a few of the crew get to talking to the Ranch owner and ham radio operator and interviewer, SuzAnne Miller. She offers to interview Lisa about the 4 ½ ft project. Miller tells us she will make a piece about it on her radio station that she runs in the winter when no one visits her, when there's LOTS of snow.
While Lisa is being interviewed, people pack up. I inhale pine trees, wet dirt, and river smells, listen to the bird calls that Maya points out. Mostly we hear the song of a magpie, black and white with a long tail.
Maya also points out an osprey and hatchlings, nestled on a nest of sharp, spiky branches on top of a three-story telephone pole. Hovering above the nest is a spy cam, an alien eye positioned above the nest, keeping watch.
Once Lisa finishes the interview, we make our way through a sprawl of box stores to the heart of Missoula, framed in Victorian architecture. Lisa had arranged for us to meet with Arlen Hall, Tour Director, at the Adventure Cycling Association.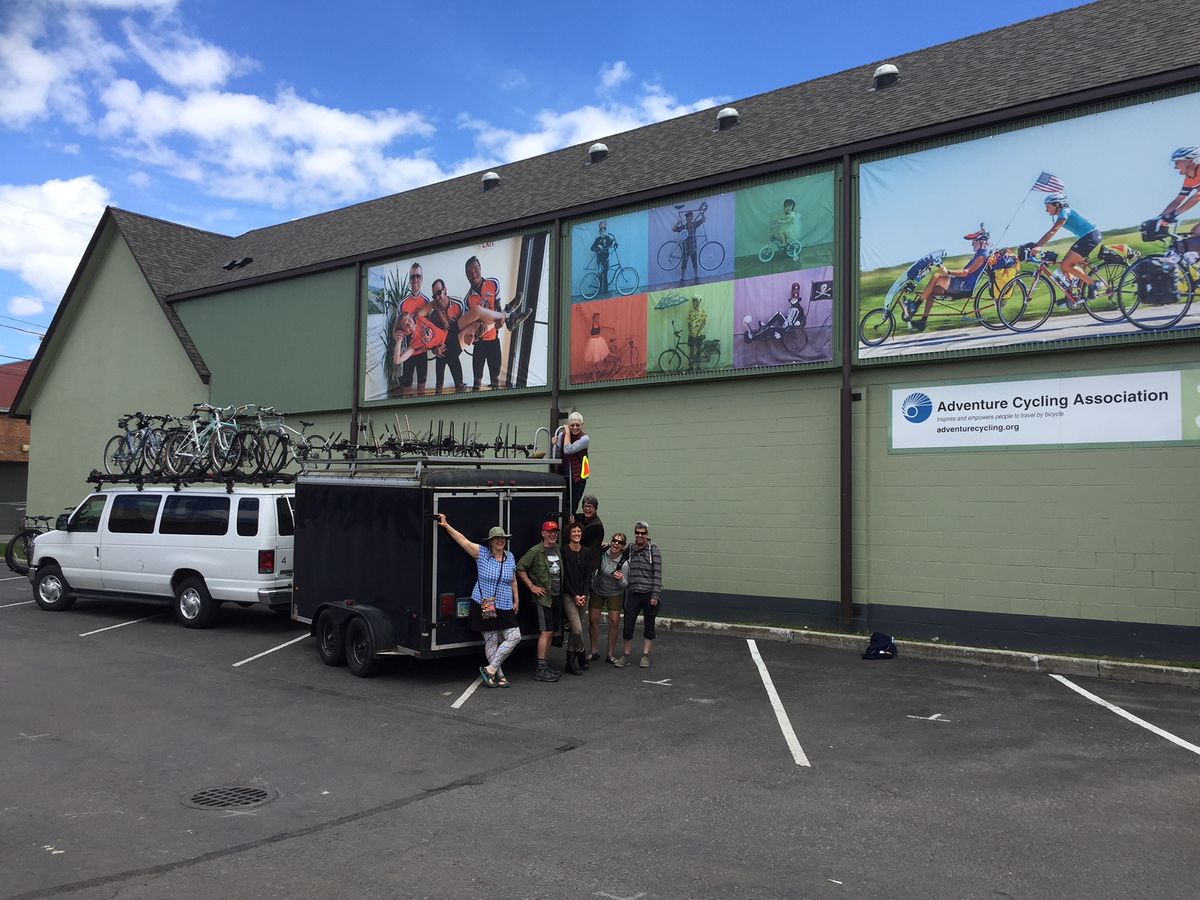 Adventure Cycling Association is a haven for bikers crossing America or planning trips across the world. Arlen gives us a tour of the place. The headquarters is draped with bike paraphernalia and antiques: photos and posters of high-wheel bikes; a 10-speed bike with metal water-storage panniers that took its rider from British Columbia to the southern tip of South America; a three-wheel, two-person bike; as well as bikes in memoriam. Bikes for two and bikes for three, God help them all. Not a way to keep my relationship happy but impressive nonetheless. Bike maps for sale, routes mapped out by one of the eight cartographers on staff. Routes across the west, east, south, with specific routes like the one that follows the route of the Underground Railroad. Arlen, our host, is larger than life, full of hospitality for us as kindred bike spirits. Adventure Cycling offers ice creams, bike storage, and showers -- a soft landing for bikers as they float through the landscape.
While we learn the lore of our steeds, Ginny picks up Lana at the local airport. Lana also rode Drawing 1. She is a cinematographer, old friend and now a mom of two young boys. This voyage will be time for her, time for us, to do this ride together. She will be the vigilant guardian of the vision, reminding us of the creative focus of documenting the line of the ride. She will make sure Lisa gets her shot angles. Thank goodness for Lana.
We wander, lunch, and get back in the van, check out two dilapidated train depots in Missoula and then prepare to ride from the outskirts of Missoula along the Bitterroot Trail. This rail-trail follows the highway, which sounds horrible, but with dips into parks, not so much traffic and a wide open sky and a motionless train running parallel, I'm able to gaze at the sky and rolling hills that flank us. It doesn't hurt to have an asphalt trail either, nice and smooth, like gliding on butter. Everyone is rarin' to go.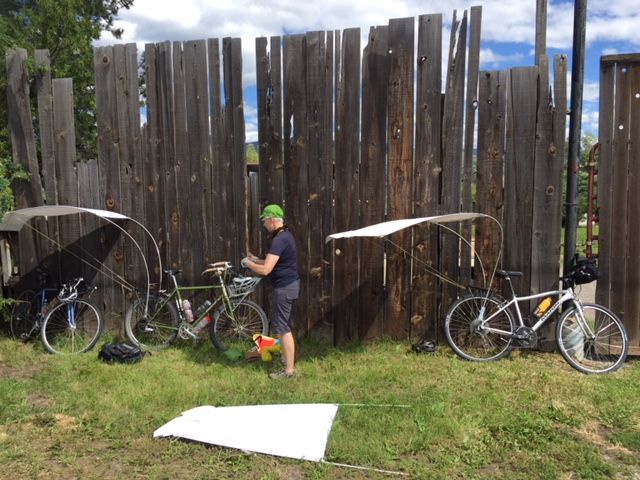 This is our second day and there is pep in our step and the flags have a sassy wiggle.
We are all happy to be here, happy to have a mission of drawing the line through this land, an adventure at the cool temperatures of mid-June. We are doing it! We are Drawing Line 2.
We bike the Bitterroot Trail all afternoon in sun and wind up the hill to our next campsite in the Bitterroot National Forest at the Charles Waters Campground. The campsite is situated up a country road off the highway, which we climb at the end of day, in the golden hour. Fields glow golden on either side of the road, a slow incline from trail to treeline and then into a rabbit warren of campsites. Ginny has parked the van along the road of our final push, jumping up and down, cheering us from the van roof:
"Keep pedalling! Just a few more miles..."
She knew uphill at the end of the day would be hard work. She's already staked out our camp spot next to the roaring Bass Creek, a perfect white noise foil for the snorers in our midst (me). We disembark, take apart flags, unclip cameras and gear and prepare for the night. Once the sun is down, warm jackets come out. The temperature drops dramatically. We bundle up, it's going to be cold. Last time I camped was on Drawing Line 1. I pull on my hat, brush my teeth and zip myself into the tent and sleeping bag. Good night.