Day 5. Flat, glorious ride through Three Forks
by Hope Windle
Date: June 20 Tuesday, 2017
Start/End: Butte MT / Bozeman MT
Itinerary: Drive to Three Forks, ride/explore Headwaters Trail.
Drive to Bozeman. Gallagator Linear Trail
and Story Mill Spur Trail [~3mi ttl - maybe just look at].
Explore and resupply. Camp @ Chisholm Campground
Actual: Drive to Three Forks, ride Headwaters Trail to Missouri Headwaters State Park.
Camp at Headwaters State Park
Trail: Headwaters Trail, Story Mill Spur Trail, Gallagator Trail/Linear Trail
Trail Surface: Asphalt, Dirt, Gravel
Riders: Lisa, Cori, Hope, Maya, Lana, Galen, Bob & Dee + Ginny (guide)
Miles rode: 13.7
This day was a cake walk, a respite, an ideal art biker's day if you were me. Time to have a Ferdinand moment, reflect and smell the flowers and ride in the grass lands of Montana.
The morning started nice and slow. We recalled dreams in marshmallow soft beds, took luxurious hot showers followed by a biker's breakfast of champions, all in the happy homestead in the hills. Ginny was master chef. Dee, Bob, Galen and Cori tinkered with our flag gear. I downloaded footage. Lana and Lisa reviewed footage, poured over maps and plotted angles and Maya strategized our safety and efficiency regarding this line we are making.
Once fully charged, we packed up and drove to our starting point, clouds camera ready. Tall poplars provided shade, lining the smooth asphalt as we glided through grasslands as far as the eye could see.
Flawless navigation brought us to our spot for lunch and a dip... a park pagoda with a swimming hole of laughing kids, a setting ripe for a musical number.

Lana told me as we were biking on this easy breezy day that drawing the line made her feel like she was part of a team on a secret mission, like the kids in the ET movie, really important, that no one else knew about. Shhhhhh… I agreed. With our flags, we were invincible.

Near the Missouri Headwaters, a string of horses, caught sight of us. Excited and curious, they ran over to where we were biking parallel to their fenced in field. Kicking up their heels, not spooked in the slightest, finally something to do. I heard them say, "We can gallup like the wind, keep up with these iron horse-people-white flag-things! Let's go, wherever they lead us."
We finished at Missouri River Headwaters State Park where the Jefferson, Madison and Missouri rivers met… hence Three Forks.
Dinner, delicious made by Cori, Lana and Galen and more. As we sat in the magic hour, munching away, Lana made a toast of gratitude. I almost boo hooed. My heart was full of thankful joyous yelps for Lisa and her really BIG idea and our effort and her effort to construct the line, the route, the logistics etc. Diana-sis all of it. I know I wouldn't be here if it weren't for this project of Drawing Ride # 2 and the line we are drawing across the whole country.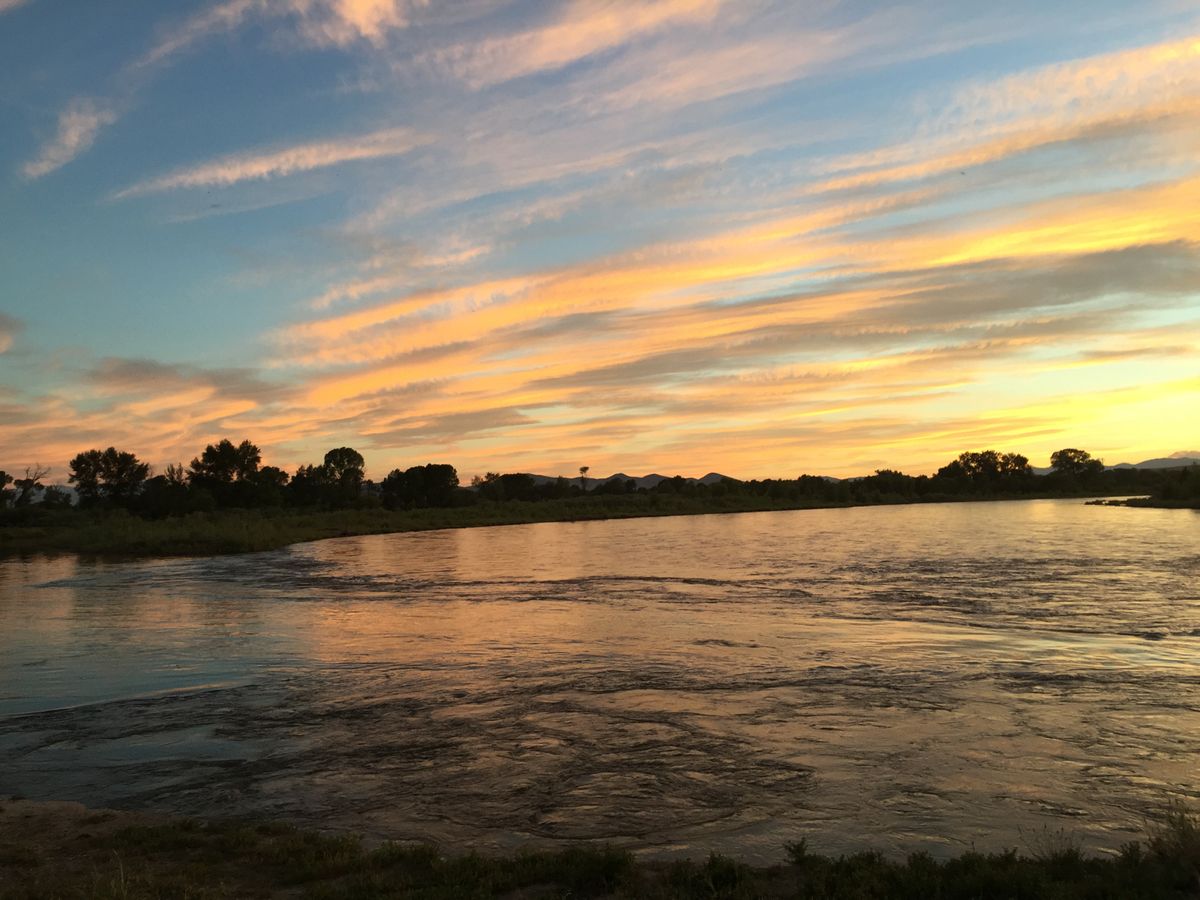 And of course, I need to add the sunset shots, because after dinner we had to bike around the area's rail trails just to be bathed in sunset pink glory until darkness won, and swarms of mosquitoes pushed us into our tents for the night.
And on another note for Day 5: it just made sense for the pilgrim to be baptized in the Missouri Headwaters, where Lewis and Clark had also passed through.